Teachers…Looking for a break from testing stress and your usual math games?
Parents…looking for math activities for the summer break?
I suggest you investigate my website downloads for a list of more than 20 easy-to-play, mathematically-sound games. I've created individual and partner games that kids may play in 5-15 minute time slots. Each requires readily available materials such as dice and playing cards. All have options to extend play or add more challenges.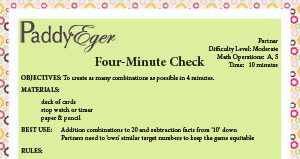 Here are samples of what you'll find:

Strategy Games:
Heading Home – a plan to reach one of 4 home bases
1, 2, 3, 4 Cover-Up – selecting number combos to cover the board
Target Practice – a group activity to discover an unknown number
Addition-Subtraction Games:
Math Sandwiches – making 2-card combos of basic facts
Keep it 10 – add/subtract numbers to keep a '10'
Countdown – practice adding/subtracting 1-10 facts
Summer Math Packets by grade levels K-2 and 3-5