Educating America Book Series
Educating America: 101 Strategies for Adult Assistants in K-8 Classrooms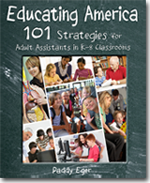 From kindergarten to high school graduation is a scant twelve years. We often forget how short and how very important these years are and that every American's future is effected by the education of our youth.

Parent and community participation in the classroom is integral to supporting the next generation of adults to become creative, thoughtful, independent life-long learners and critical thinkers, problem solvers who synthesize information, communicate clearly, and work cooperatively. … They are the next leaders of our great country.
Education > Parent Participation
176 Pages, Paperback
ISBN: 978-0-9831587-5-2
$14.95
Read a Sample

This book will help individuals, families, and corporate and community groups volunteer in the K-8th grades with confidence and proficiency. It empowers you with capacity building tools and skills to work hand-in-hand with professional educators to develop strong and vibrant individuals.
The reader will discover how to:
Prepare to Assist
Set Expectations
Communicate Effectively
Improve the quality of teaching while improving the quality of student learning
Overcome anxiety about working with students
Read this book and Volunteer with confidence! Get acquainted with your school problems before they grow into community problems.
The book is available through this website, independent bookstores, online bookstores and distributors (Baker and Taylor and Partners).
Educating America Desktop Flipbook:
A companion resource to the Award-winning book Educating America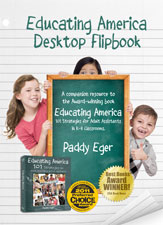 Working in classrooms is an important job.
As a flexible rover, working 1:1, or managing a small group, these tips will help you become effective and confident in the classroom.
Tasks are listed in chronological order. The "flip" sides, face your students and provide them encouraging reminders.
Your first assignment—Read Educating America: 101 Strategies for Adult Assistants in K-8 Classrooms.
Education > Parent Participation
48 Pages, Flipbook
ISBN: 978-0-9858933-1-6
$9.95
Read a Sample
 

Download the Cross Reference Companion for Educating American & the Educating America Flipbook here.
Educating America Getting Started
As a teacher, you work long hours reading curriculum and studying and creating materials to help your students grow and learn.
School districts, states and national standards require educators to accomodate a wide variety of skill levels in students. These mandates increase your workload. It's time we move beyond asking parents to bring cookies to parties and inviting community members to attend school concerts and events. It's time to use parents as resources to help our classrooms. It's time to engage the greater community in educating our country's students.
This workbook is designed to help focus your thinking before you put out the call for classroom assistants. It stands alone but also supplements and expands on the information provided in the award-winning book, Educating America: 101 Strategies for Adult Assistants in K-8 Classrooms.
Practical techniques show you how to build a team of volunteers that function effectively and produce results.
Clear text and sample forms cover every aspect of volunteer management.
Simple checklists enable you to be fully prepared for volunteers through out the school year.
Accessible charts and forms help you explore different options for each volunteer and provideuseful examples.
Education > Parent Participation
48 Pages, Paperback
ISBN: 978-0-9858933-6-1
$8.95
Read a Sample