Welcome! Thanks for stopping by. Take the time to poke around my website. Use the slider at the top of this page for a current parade of books and materials. And, read about my latest book awards here!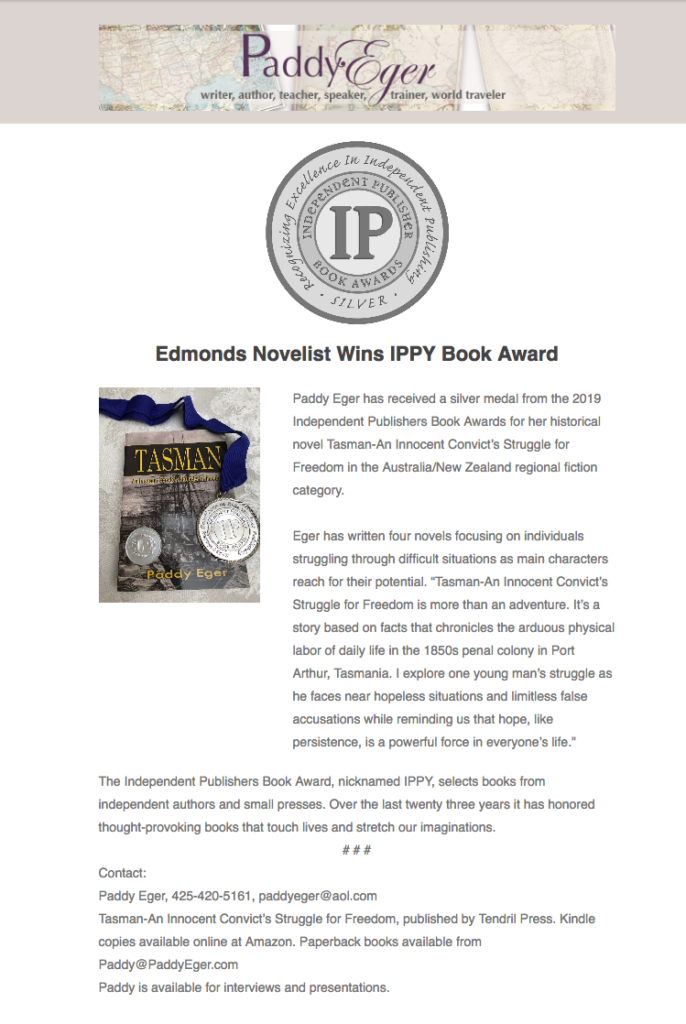 ** I'm proud to announce that Tasman-An Innocent Convicts Struggle for Freedom  received the IPPY (see the article on the right).
It also received 2nd place in the Hollywood Book Fest general fiction category. It's always rewarding to know when a book I've written is honored by contest judges. If you enjoy adventure and a look back to the 1850s I hope you will read Tasman.
BOOK SALE!!
To celebrate Tasman's latest awards, I'm having a special Tasman sale. To take advantage of the sale use this link: http://paddyeger.com/blog/author/product/tasman
Read on to find out what I've been writing.
** When I recently stepped away from writing novels, I wrote Small Town Girl: A Memoir about my growing up years in Bremerton, WA in the late 1940s.It's available from me through this website.
** Enjoy my lovely ballet books trailer on the right side of the page. It was created by my friend and publishing consultant, Emily Hill to honor dancers everywhere. Step into the world of professisonal dancers when you pick up a copy of 84 Ribbons-A Dancer's Journey, When the Music Stops-Dance On, and Letters to Follow-a Dancer's Adventure.
** Subscribe to my blogs: one focuses on writing, the other provides resources for schools and parents.
** Looking for something different? Checkout Sonnets for Ambrosia, a book of poetry written over a hundred years ago by my preacher-grandfather to his soon-to-be wife. I complied it to honor his skill with words.
** Slip over to visit my non-fiction site, Educating America, for my education books and materials. Stay around and catch my blog as well as numerous free downloads.
I invite you to visit my bookstore for peeks inside all my books. You may purchase any aand all of my materials through my website.
Thanks for stopping by. I look forward to hearing from you and sharing my love of writing with you.  Here's to all things bookish!
Paddy
---