Available Now for All Who Love an Adventure & Historical Fiction
In 1850, sixteen year-old Irish lad, Ean McCloud, steps off the boat, his legs in iron shackles, and steps into serving a three-year sentence at the Port Arthur Penal Colony in Tasmania. Falsely convicted, he must now survive the brutal conditions, the backbreaking labor, and time in the silent prison—a place that breaks men's souls. Follow Ean's adventures as he seeks not only to survive but to escape!
Learn more or Look Inside the Book
$16.95 Add to cart
---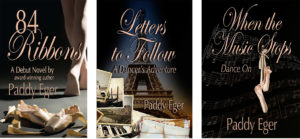 Includes all 3 books in the Ballet Triology: 84 Ribbons, Letters to Follow and When the Music Stops. Learn more
$49.00 Add to cart
---
Lynne's Adventures through Letters and Cards
Marta's best friend Lynne begins a grand adventure when she travels to Paris on a dance exchange. Her move to a wacky boarding house is not a good fit for an outspoken American dancer but it creates humorous encounters with the tenants. At the end of the exchange, Lynne becomes the travel companion for her harebrained Uncle Leo. She sends postcards and letters to Marta to retell her mapcap adventures. Learn more or Look Inside the Book
$16.95 Add to cart
---
Marta's life: Part Two. Marta struggles to regain her ability to dance. As she finds a job to support herself, her dance and her personal life take several unexpected and harrowing turns. Will she be able to find a deeper well of strength to meet these new challenges head-on?  Learn more about what the future holds for Marta or Look inside the book
$16.95 Add to cart
---
A young dancer's realizes her life long dream, if only for a while.
Seventeen year old Marta Selbryth realizes her dream of becoming a professional dancer when the Intermountain Ballet Company in Billings, Montana invites her to join their 1957 season. As Marta's new life unfolds, she must learn to face not only the successes of dancing in the corps de ballet, but the challenges and setbacks that might crush the dream she's had for so long. Read more or Look inside the book.
$16.95 Add to cart
2 Free Backstory Chapters   • Available Now when you subscribe to the website! •

Marta's first life-changing event occured one spring when she was seven. Read Jonas: The Day Marta's World Changed to learn about the sad news that impacted the rest of her life.
Steve's interest in dating Marta blooms when he attends the ballet and watches her dance. Investigate Steve's chapter entitled, Steve's First Ballet.
The Truth Behind the Fiction
Read about how several truths in my real life became part of the ballet trilogy. Subscribe to the website to uncover the connections.
---
Paddy's has also published a collection of love Sonnet's written by her Grandfather for her Grandmother. Learn more here.