This past month I've enjoyed meeting people at two book events. If you were unable to attend, I'm extending the same book sale offer to you via this blog.  You may purchase my Educating America book, flipbook and workbook for $20 (plus $6 shipping in USA) It's a $34 materials value and comes with free teacher notecards.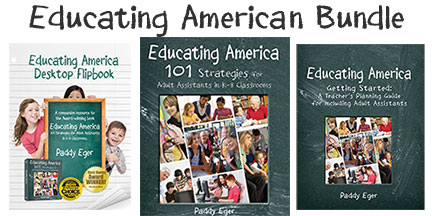 Payment may be made via PayPal or through snail mail sent to 8128 187th St SW, Edmonds, WA 98026-5843. I'll ship the materials to you within 3 business days and will include a surprise as a thank you. The offer ends on January 31,2019.
I appreciate your support and encourage you to sign-up for my education newsletter at www.paddyeger.com/blog/educatingamerica.