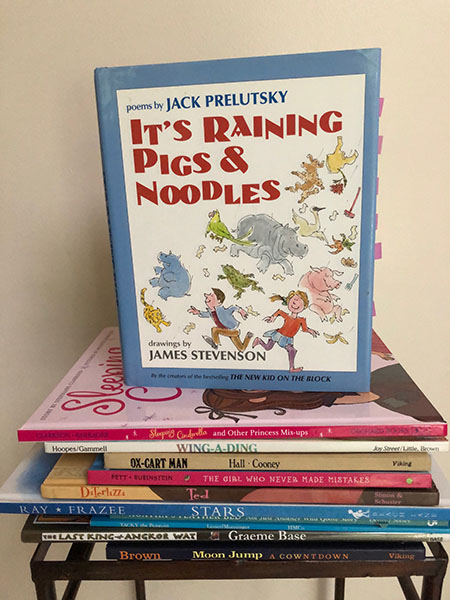 Sno-Isle, the local library system, has produced a pamphlet, Countdown to Kindergarten: 100 Essential Picture Books that's a starting place for great picture books to share with kids from age 3 to 10. Yep. I said 10. I read picture books to third graders and they love them. We use them as idea starters to enhance their independent writing time.  Here are a few of my favorites from the library pamphlet:
Are You My Mother? by P.D. Eastman
The Days the Crayons Quit by Drew Daywait
Dont' Let the Pigeon Drive the Bus by Mo Willems
If You Give a Mouse a Cookie by Laura Joffe Numeroff
The Snowy Day by Ezra Jack Keats
Where the Wild Things Are by Maurice Sendak
These others I enjoy reading in the classroom; many are decades old but still enjoyed by kids:
 Moon Jump by Paula Brown
The Last King of Angkor Wat by Grame Base
Tacky (several books) by Helen Lester
Agatha's Feather Bed: Not Just Snother Wold Goose Story by Carmen   Agrea Deedy
Stars byMary Lyn Ray and Marla Frazee
Ted by Tony DiTerlizzi
The Girl Who Never Made Mistakes by Mark Pett and Gary Rubinstein
Round Trip by Ann Jonas
Ox-Cart Man by Donald Hall
Wing-A-Ding by Lyn Littlefield Hoopes
Sleeping Cinderella and Other Princess Mix-ups
Jack Prelutsky poetry books for kids
Enjoy! Picture books are fun for kids and grown-ups.